THE LAST HOURS OF USS CARBONERO (SS-337)
by David S.Cooper, Capt., USN (Ret)
| | |
| --- | --- |
| USS CARBONERO (SS-337) | |

I was Commanding Officer of USS POGY (SSN-647),a STURGEON class SSN home ported in Pearl Harbor, Hawaii, from 1973 to 1977.
When Dan O'Dwyer asked if I would do a write-up of the sinking of USS CARBONERO, I said that I would be honored to but hoped that I could find some of the records so I wouldn't trust the entire story to memory.
In April of 1975, we were directed to conduct a test of a warshot Mark 48 torpedo against a target submarine in the local waters off Hawaii.
The test was called SINKEX 1-75 and was being run by the Operational Test and Evaluation Force for the Naval Sea Systems Command.
POGY had been at sea for five days of local operations and the SINKEX was the last event before returning to port.It was also a special week for me because I was able to take my 15 year old son out for his first ride on my submarine. (Although it wasn't enough to convince him to make a career in the Navy, he still has the most vivid memories of that week at sea then I could have ever thought possible. Of course his memory is also about 25 years younger than mine; that may have something to do with it.)
The week was not without its surprises either, when the day before the SINKEX, our lookout sighted a capsized 15 foot sailboat drifting out to sea about 5 miles off the coast of Oahu. We successfully brought the young man who had been sailing her on board. He had been in the water for about an hour in a sea state two and was in good health with the exception of the scrapes and bruises acquired in being drug up the side of POGY.
The SINKEX the next day, 27 April 1975, proceeded quite smoothly. CARBONERO was drifting on the surface but had a noisemaker that was activated so our torpedo would be able to acoustically home in on her.
After verifying our position and taking a last look at CARBONERRO, we left periscope depth and went down to about 200 feet for the torpedo firing.
Of particular interest to you readers, POGY had a sailor on board by the name of IC1 (SS) Joseph J. Varese. Joe was the leading petty officer of the IC Division, but more importantly, he had served on CARBONERO from June of 1969 until she was decommissioned in November of 1970. If I remember correctly, Joe qualified in submarines on her also. When the Weapons Officer and I learned of this, we quickly decided that Joe should be the one that threw the firing switch on the fire control panel to give the signal to launch the torpedo.
A very nervous Joe Varese did that and we all waited for minutes which seemed like hours while the torpedo was ejected, lit off and started its run to the target. After receiving several signals over the wire,from the torpedo that it had acquired contact on the target, lost contact, reaquired, and then repeated the process a few more times, we heard the explosion as the torpedo finally impacted the hull of CARBONERO.
Our sonarmen had rigged the sonar to the 1MC general broadcasting system so the entire crew could listen to the underwater sounds as the hull of your great ship broke up and sank to the bottom of the ocean.
I am proud to report that she did not give up easily, as there were sounds of pieces falling on top of each other and tanks imploding for what seemed like a very long time. I can also say with all honesty, that there were not very many dry eyes among the POGY crew as we listened to her go to her watery grave.
I still have some of the radio messages that were transmitted after the SINKEX. The first, from POGY to COMSUBPAC, said:
SIGHTED SUBMARINE, SANK SAME, MESSAGE FOLLOWS.
The next one that went from the NAVSEASYSCOM rider to the "world" said,
EX-CARBONERO SINKEX 1-75 SUCCESSFULLY COMPLETED WITH FIRST TORPEDO,
TARGET SUNK IN ABOUT 15 SECONDS.
I think that Joe Varese said it best though in a subsequent interview for the SUBPAC newspaper when he said, "I fired with mixed emotions. Happy to see a gallant lady laid to a final and honorable rest, yet sad because when she went down, part of my life went down with her."
Joe was transferred from POGY to the Pre-Commissioning crew of the USS GROTON (SSN-694) a couple of months later. Although I have lost touch with him, I am sure that he continued to serve with honor and I am proud to have known him as a shipmate.In summary, after watching the three submarines I served on, end their lives under the cutting torch in a shipyard, I can assure you that USS CARBONERO (SS-337) ended her life with honor and dignity and served her country to the very end.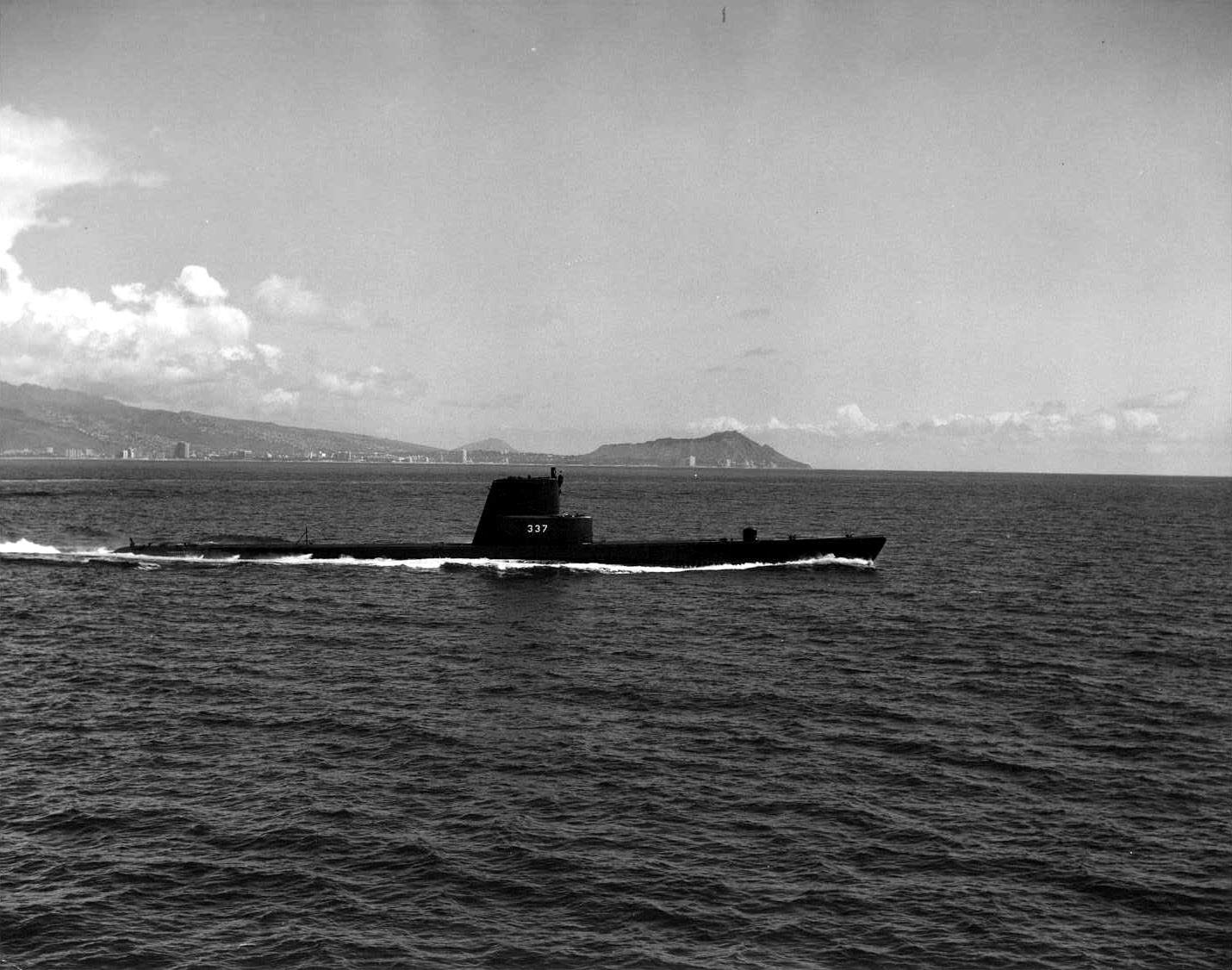 Respectfully,
David S. Cooper
Captain, USN (Ret)
<! -- end post single -->